SERIOUS FUN 2009 CD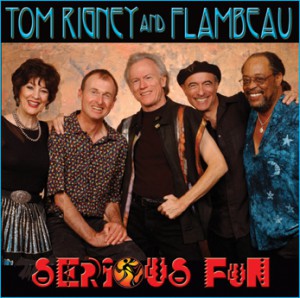 The brand new Flambeau CD, "Serious Fun", has just hit the street, and music lovers are going crazy. This great new disc features eleven original compositions by Tom Rigney, most of them written in 2008, and four fabulous cover tunes–the Sam Cooke/Lou Rawls classic, "Bring It On Home To Me", Al Rapone's zydeco masterpiece, "C'est la Vie", the country classic "The Prisoner's Song (here given a rollicking New Orleans treatment), and the Eddie Hodges hit, "Knock On Your Door".
Rigney's new compositions cover a wide range of musical ground, from the rockin' title tune, "Serious Fun", to the driving Irish Cajun fiddle tune, "Spin", to the two heartbreakingly beautiful airs, "The Yearning Heart" and "The Blackbird". Along the way, Flambeau gets lowdown and bluesy on "You Say You Love Me", kicks up its collective heels on the new Rigney love songs, "Hey Little Girl" and "Tonight's a Night", and turns swingingly dark and atmospheric on "Midnight Walk".
All the new material showcases Flambeau's tight ensemble playing and fiery instrumental work. Particularly hot are the deeply grooving rhythm section and virtuosic soloing on the funky instrumental piece, "New World", and the kick-ass zydeco punch of another new instrumental, "The Devil You Know".
In all, this is unquestionable the rockin'-est CD Flambeau has recorded to date, and is sure to become the party album of 2009. If you love American roots music you owe it to yourself to get some "Serious Fun"!